Job Search
Use this report to identify internal users who exchange emails with job search sites. The report detects sent or received emails containing resumes.
NOTE <![CDATA[ ]]>
The report is able to identify both sent and received email for a selected user.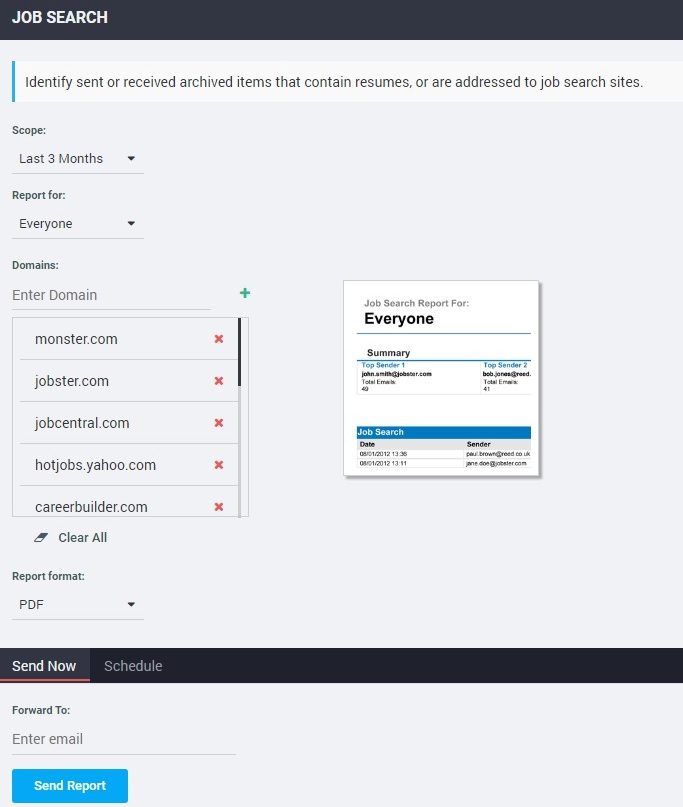 Filter the report using the following criteria:
Option
Description
Scope

Specify date range or use default setting (This Month). You can only select dates in the last 6 months.

Report for

Enables you to choose for whom this report applies. Run report on all employees (default) or on an user or group.

Domains

The list of domains listed in this area will be added to the search criteria of the report. Add domains by typing the URL in the available field and clicking . To remove a domain, click . Clear all removes all the listed URLs.

The default list of job search sites includes: Monster.com; Jobster.com; jobcentral.com; hotjobs.yahoo.com; careerbuilder.com; indeed.com; simplyhired.com; jobing.com; reed.co.uk; jobsearch.co.uk; monster.co.uk; totaljobs.com; fish4.co.uk; cityjobs.com.

Report format
Select the type of output. Reports can be exported as an attachment in PDF or Excel (.xlsx) format.
The results of the generated report are listed in a table sorted by date in ascending order. A report summary above the table displays the top 3 users who exchanged emails with job search domains.
The table contains the following information:
Option
Description
Date
Displays the date and time of the email.
Sender
Sender email address.
Subject

Email subject.

NOTE

Entries in the subject column contain a link to display the detected email.
For further information, refer to:
Generating MailInsights reports