Quarantine Options
Use the Quarantine Options to configure spam retention, user quarantine reports, quarantined malware and emails sent to inexitent users.
Navigate to Quarantine > Quarantine Options > Spam Options.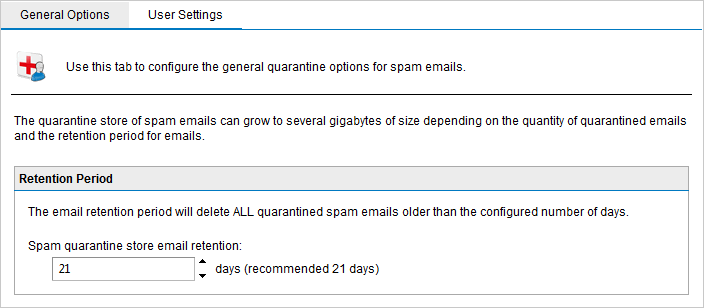 From the General Options tab change or confirm the Spam quarantine store email retention period.
Click User Settings tab.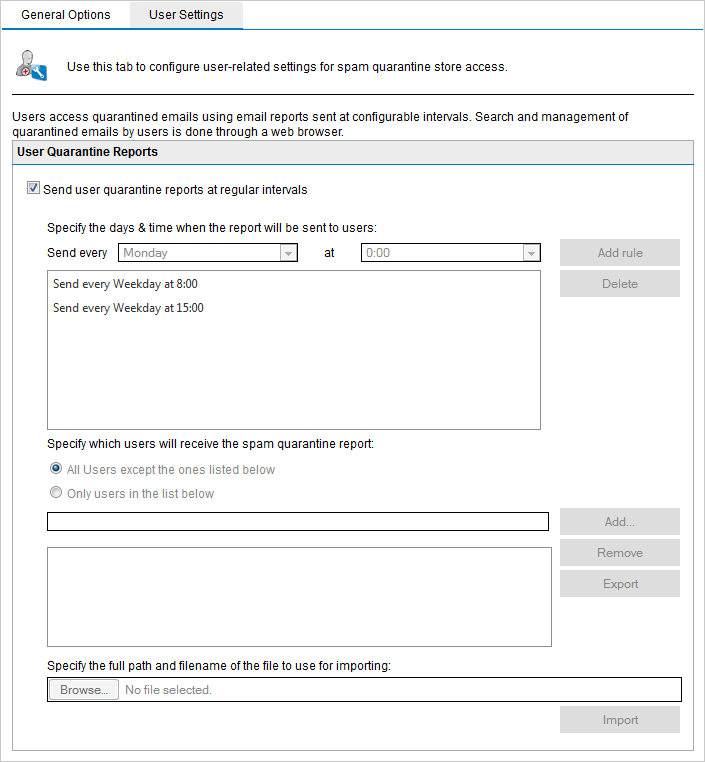 Select Send user quarantine reports at regular intervals to enable sending of User quarantine reports.
NOTE
User quarantine reports are emails sent to users on a regular basis with a list of blocked spam for that user. Using this list, users can check and approve any legitimate emails. Email blocked by the Malware and Content Filtering filters are not shown in these emails.
Configure the frequency at which report will be sent. To add to the preset schedule, select a date and time and click Add rule. Select an existing date and time and click Delete to delete selected date/time.
Configure the users that will receive the Quarantined Spam reports. Select All Users except the ones listed below or Only users in the list below and provide the email address of the users to include or exclude.
NOTE
Click Browse to select a file with a list of email addresses to import and click Import.
Click Apply.
GFI MailEssentials can also be configured to notify the administrator or authorized users via email (Quarantine Action Form) whenever an email is quarantined.
The Quarantine Approval Form contains details related to the quarantined email including the reason why it was blocked and any attachments that were included in the email. The administrator can then action the quarantined email (for example, approve the email) directly from the email client.
Navigate to Quarantine > Quarantine Options > Malware Options.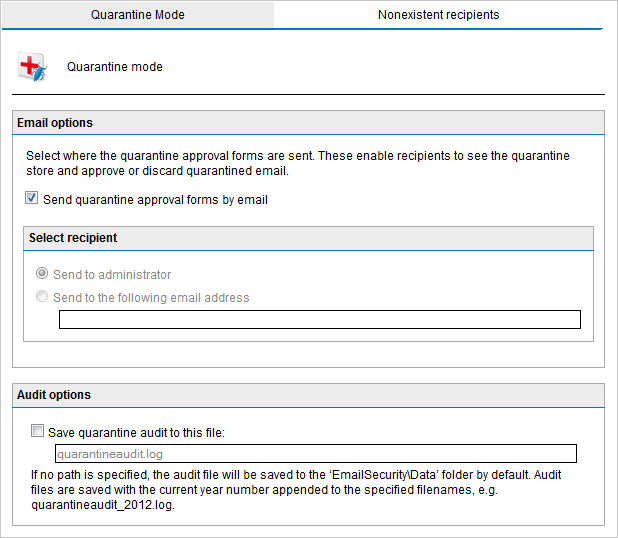 From Quarantine Mode tab, select Send quarantine approval forms by email checkbox to enable the sending of Quarantine Approval Forms.
From the Select recipient area, specify the recipient of the Quarantine Approval Forms:
| Option | Description |
| --- | --- |
| Send to administrator | Sends Quarantine Approval Forms to the administrator as configured in General Settings node. For more information refer to Administrator email address. |
| Send to the following email address | Sends Quarantine Approval Forms to another email address. Key in the recipient in the text box provided. |
Optional - Select Save quarantine audit to this file and configure a filename where to save a copy of the quarantine log.
Click Apply.
The GFI MailEssentials Nonexistant recipients feature scans emails for non-existing local email addresses before these are stored to the Quarantine Store. If an email contains non-existing local email addresses, it is permanently deleted. This reduces the number of emails for administrative reviewing.
Configuring Nonexistent Recipients
The Nonexistent Recipients filter requires access to the list of local addresses. This is done either via Active Directory or if communication with Active Directory is not possible, via an LDAP server.
Navigate to Quarantine > Quarantine Options > Malware Options.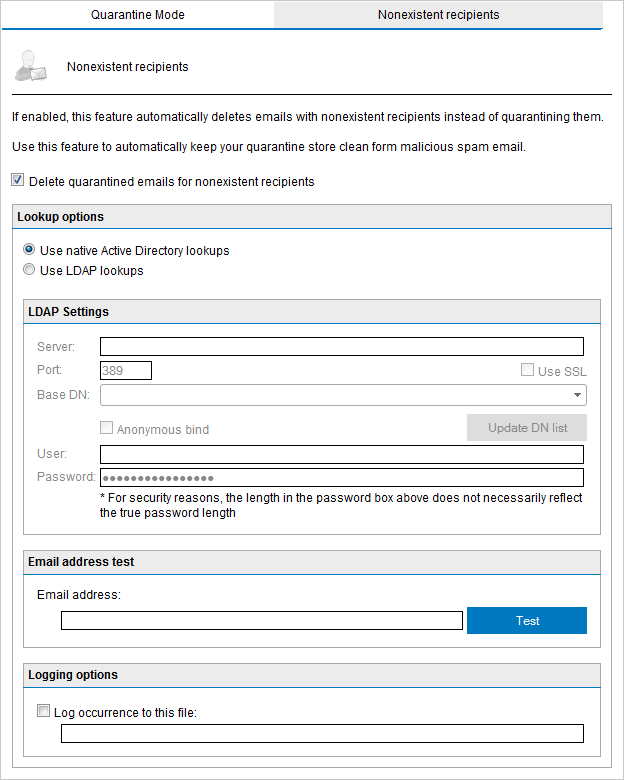 From Nonexistent Recipients tab, select Delete quarantined emails for nonexistent recipients checkbox.
Select the user lookups method to use:
Option
Description
Use native Active Directory lookups

Select this option if GFI MailEssentials is installed in Active Directory mode and has access to ALL users on Active Directory. Skip to step 8.

NOTE

When GFI MailEssentials is installed in Active Directory user mode on a DMZ, the AD of a DMZ usually does not include all the network users (email recipients). In this case configure GFI MailEssentials to use LDAP lookups.

Use LDAP lookups
Select this option when

GFI MailEssentials

is installed in SMTP mode and/or when

GFI MailEssentials

does not have direct access to the full list of users.
NOTE
In an Active Directory environment, the LDAP server is typically the Domain Controller or Global Catalog.
Specify the port number, default 389, in the Port text box. If connection to the LDAP server is via SSL, select Use SSL and the default port changes to 636.
NOTE
Ensure that the port is enabled from the Firewall.
Click Update DN list to populate the Base DN list and select the Base DN (that is, the top level in the Active Directory hierarchy).
If your LDAP server requires authentication specify the User and Password. Alternatively, if no authentication is required, select Anonymous bind.
Test your configuration settings by specifying a valid email address in the Email address box and click Test. If the email address is not found, review the configuration settings.
To log Nonexistent Recipient activity to a log file, select Log occurrence to this file and specify path and file name (including .txt extension) to a custom location on disk where to store the log file. Alternatively specify the file name only (including .txt extension) and the log file will be stored in the following default location
<GFI MailEssentials installation path>\GFI\MailEssentials\\EmailSecurity\Logs\<filename>.txt
Click Apply.