Configuring Reporting and Quarantine data centralization
GFI MailEssentials provides you with the facility to centralize reporting and quarantine data recorded from all the GFI MailEssentials instances within a Multi-Server network. Through this feature, you will gain a better understanding of what your Multi-Server network is processing.
To synchronize Reporting and Quarantine data, perform the following procedure on each server in a Multi-Server network:
Navigate to the Multi-Server node.
Select the Configuration Sync tab.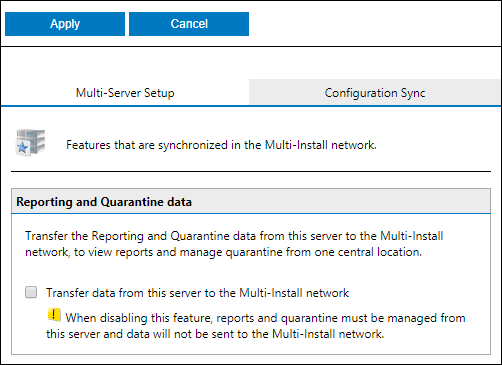 From the Reporting and Quarantine data area, enable Transfer data from this server to the Multi-Install network option.
Click Apply.
NOTE
If the network connection between the computer sending the data and the Synchronize Quarantine and Reporting data host is lost, GFI MailEssentials stores reporting and quarantine data on the local server. When the connection is re-established, data automatically transfers to the Quarantine and Reporting data host.