Licensing
You should purchase a license that is equivalent to the number of mailboxes or users protected by GFI MailEssentials.
GFI MailEssentials 21 and later provides two licensing options:
Legacy licensing: Enter a valid license key in the product's user interface
Subscription licensing: Use a GFI Account that has a license for

GFI MailEssentials

. This method automatically synchronizes your license key with GFI Accounts.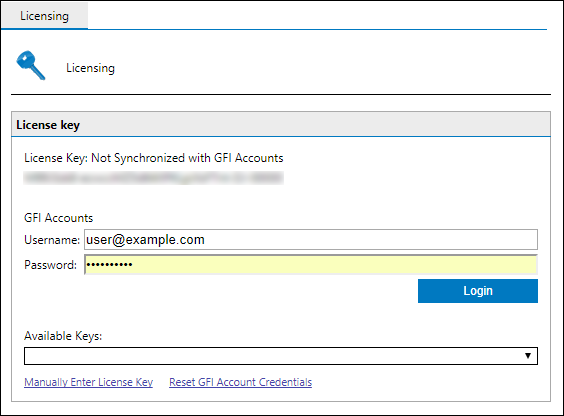 To modify you license information navigate to General Settings > Licensing. These are the available options:
Option
Description
GFI Account
Enter the username and password of an account that has a license for

GFI MailEssentials

assigned to it.
Available keys
Use the drop-down menu to select a key available for

GFI MailEssentials

.
Manually Enter license key
Type in manually the license for

GFI MailEssentials

Reset GFI Account Credentials
Use this option if you have a GFI Account with a license assigned for

GFI MailEssentials

, but you cannot connect to GFI servers with the credentials entered.
To review your license information, including the subscription expiry date, go to General Settings > Licensing and review the details in the License key information.
Label
Description
Product Edition

The edition of GFI MailEssentials depending on the type of subscription purchased:

Anti-spam - Enables the anti-spam filtering functionality. Security and anti-malware scanning engines are disabled.
EmailSecurity - Enables the security and anti-malware scanning engines. Anti-spam filters are disabled.
UnifiedProtection - Includes both the anti-spam and email security functionality.

Anti-spam
Indicates whether anti-spam functionality is licensed.
EmailSecurity
Indicates whether the security and anti-malware functionality is licensed.
Subscription status

Displays the date when the subscription expires.

When the license expires, your email server will no longer be protected. GFI MailEssentials stops scanning emails and stops downloading updates.

Number of licensed users
The maximum number of users allowed, according to the purchased license.
Current number of users
The number of users protected by

GFI MailEssentials

.
GFI MailEssentials counts the total mailboxes/email addresses, depending on the environment. For more information refer to Managing local users.
Note that when the number of users in your environment exceeds the number of users allowed by the license key, GFI MailEssentials continues working for a 30 day grace period. Email scanning will stop if the license is not updated during this period or if the license user limit is not adjusted to reflect the increase in users.