Monitoring
Kerio Operator
When you are experiencing problems with your connection, we recommend you to monitor the status of your PBXPrivate Branch Exchange - System that connects telephone extensions and switches calls..
Monitoring can be done using the Status section:
Monitoring active calls
All current calls can be viewed under Status > Calls.
You can see a table where each call occupies one line and a graph displays a number of calls in time in the Calls section.
Go to the Calls section, especially in case that you plan to restart the PBX which may result in an undesired termination of a call in progress.
Call History
The Call History section keeps a list of all internal and outbound calls of the PBX.
Call History can be viewed under Status > Call History.
To add or remove columns in the call history:
In the administration interface, go to Status > Call History.
Mouse-over a name of a column and click the arrow on the right side.
In Columns, you can:
select new columns to add them to the Call History,
deselect columns to remove them.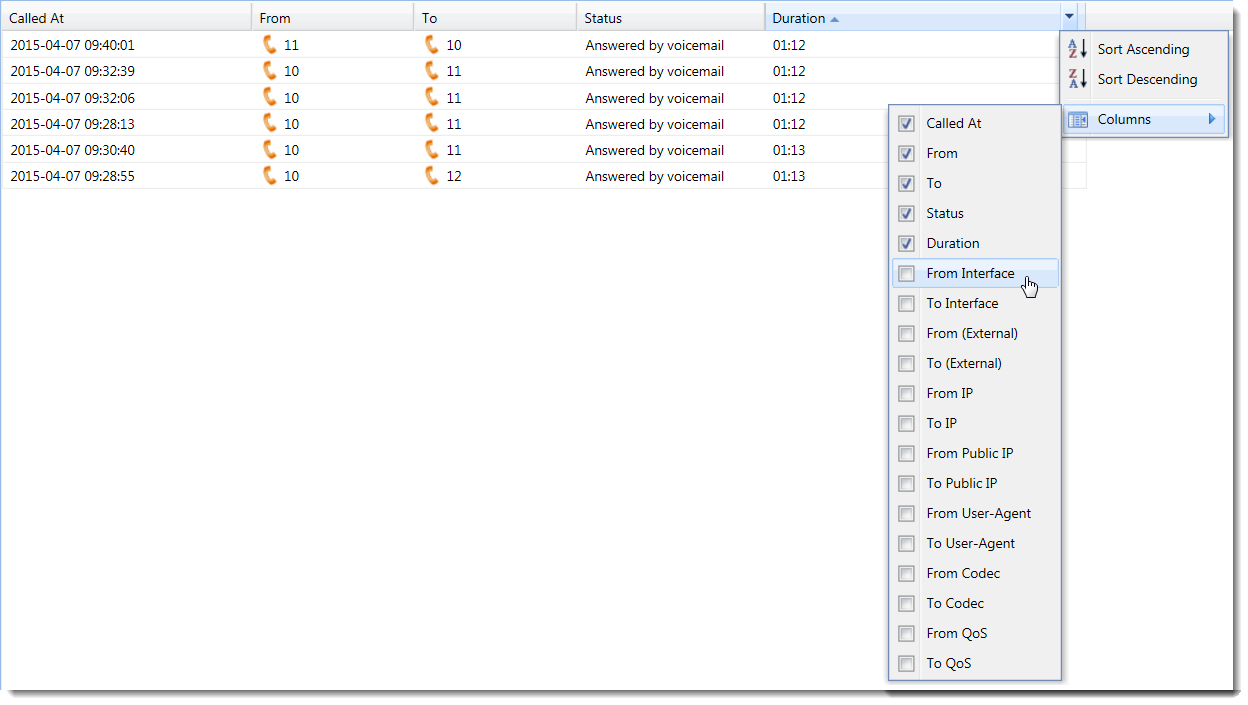 Each line contains information about one call. The following actions can be applied to the call history:
| Action | Description |
| --- | --- |
| Export to a CSV file | You can click on Advanced >Export to a CSV file to save the file on your local drive. |
| Clear | Click on Advanced > Clear and confirm your decision in the corresponding dialog. |
NOTE
Individual users can delete their history in the Kerio Operator Softphone. However, this operation only hides the data. They are not removed from the PBX and logs.
Monitoring Recorded Calls
Section Status > Recorded Calls displays all calls recorded from call queues. This section displays a table where each recorded call occupies one row. Select a call to listen to it, download it to your computer or remove it.
Click Settings to record calls locally or to a remote storage. For more information refer to Saving recorded calls.
Monitoring a
Kerio Operator

dial plan

A dial plan contains a list of all the used extensions and their users. You can export this list to a CSV file or print it.

Go to section Status > Dial Plan to see the list:

Export to CSV — the button exports the data in the format described in table.
| Extension Number | Type ID | Description |
| --- | --- | --- |
| 111 | 1 | Winston Smith |
| 112 | 1 | Ada Monroe |
| 50 | 7 | Voicemail |
Changing the Dial Plan
If you use automatic phone provisioning and the change in your dial plan may affect automatically provisioned phones, update of the phones configuration is needed. Kerio Operator detects such changes automatically and displays a warning. If you confirm this warning, phones will be restarted at the time you selected in the dialog. You can restart the phones later manually in section Provisioned Phones. To restart the phones, click on the Advanced > Restart all phones button.
Monitoring active conferences
All current conferences can be viewed under Status > Conferences. The window displays two tables. Each line in the first table displays one conference. The second table displays information about individual conferences. Just select a conference and the details in the bottom table are updated.
Monitoring call queues
All active call queues and their parameters can be observed in section Status > Call Queues. The window displays three tables. Each line in the first table displays one call queue.
The other tables display agents and callers in a queue. Just select a queue and the details in table Agents and Callers are updated.
You can also reset the call queue statistics to start from zero. Use the Reset button.
System Health
The administration interface allows you to view the status of CPU, memory and disk space of your computer with Kerio Operator.
NOTE
In the Storage Space chart, the graph shows the used space and not the space available.
For example, if the graph shows 64% for the recorded calls it means that 64% is used for storing calls and then, other files take up the other 36%.
System status can be viewed under Status > System Health.
In this section, click Tasks to:
restart telephony subsystem
reboot

Kerio Operator

power off

Kerio Operator

do factory reset of

Kerio Operator
The Support information link generates an asterisk configuration file and last 100 lines of all logs. This information may be helpful especially when solving issues in cooperation with the Kerio Technologies technical support.
See detailed information about disk space usage by clicking on Details. This opens a dialog with information about disk usage of audio files, voicemail and configuration file of Kerio Operator.