GFI MailEssentials

Installation Guide for Lotus Domino

Use the information in this section to install and configure Lotus Domino with GFI MailEssentials. Install GFI MailEssentials on a separate machine then Lotus Domino, as seen on the figure below.

GFI MailEssentials installation on a separate server than Lotus Domino
Install GFI MailEssentials by running the GFI MailEssentials installation file and following the onscreen instructions. For more information refer to Getting Started with GFI MailEssentials.
If GFI MailEssentials is installed on a machine where Active Directory is present, one may encounter the dialog box below. Select No, I do not have Active Directory… to install GFI MailEssentials in SMTP mode.
Configure the machine where GFI MailEssentials is installed to act as a gateway (also known as "Smart host" or "Mail relay" server) for all email. Effectively, all inbound email must pass through this machine before relayed to the mail server for distribution (it is the first to receive all emails destined for your mail server).
The same applies for outbound emails; mail server must relay all outgoing emails to the gateway machine for scanning before these are sent to external recipients via Internet (it must be the last 'stop' for emails destined for the Internet). In this way, GFI MailEssentials checks all inbound and outbound mail before it is delivered to the recipients.
The MX record of your domain must point to the mail relay server
Since the new mail relay server must first receive all inbound email, update the MX record of your domain to point to the IP of the new mail relay/Gateway server.
Verify the MX record of your DNS server as follows:
From command prompt, type nslookup and press Enter.
Type set type=mx and press Enter.
Type your mail domain and press Enter.
The MX record should return a single IP that corresponds to the IP address of the machine running GFI MailEssentials.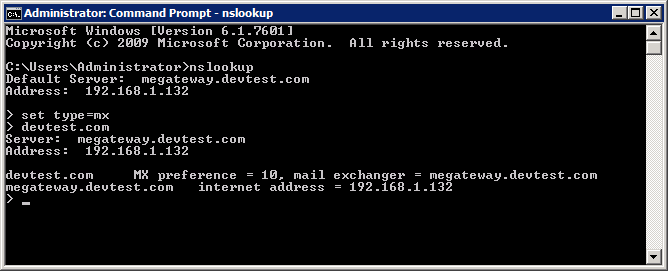 Test the new mail relay server. Before proceeding to install

GFI MailEssentials

, verify that the new mail relay server is working correctly.
Test the IIS SMTP outbound connection of your mail relay server by sending an email to an external account from an email client. Verify that the external user received the email.
NOTE
Alternatively, instead of an email client, send email manually through Telnet. This will give you more troubleshooting information.
For more information, refer to:
http://support.microsoft.com/support/kb/articles/Q153/1/19.asp
Configuring Lotus Domino to send outbound emails through
GFI MailEssentials
To direct all outgoing emails to the server where GFI MailEssentials is installed, Lotus Domino needs to be configured as below.
1. From the Lotus Domino Administrator, click Configuration tab and select Server > Configurations.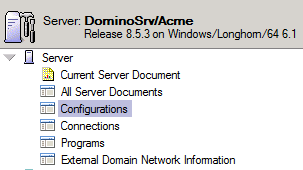 After configuration section is selected, main window will show the configuration of the server. Select desired server and click Edit configuration.

From the configuration document page, select Router/SMTP tab and ensure that Basics is selected. Double click on content to enable edit mode. Select Relay host for messages leaving the local internet domain and enter the IP Address of the machine that GFI MailEssentials is installed. Click Save and Close to save configuration document.
Lotus Domino LDAP Settings
From Lotus Domino, enable Directory Catalog and Directory Assistance. In the Directory Assistance database, click Add Directory Assistance to create a new Assistance document. In the document, one must enable the LDAP clients under Make this domain available to as follows:-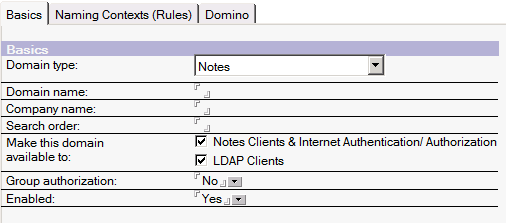 In the server configuration one must edit the credentials under the configuration. Anonymous authentication must be enabled so that GFI MailEssentials can access the Lotus Domino LDAP.
See also: