Creating a newsletter or discussion list
To create a new newsletter or discussion list:
Go to Email Management > List Server and click Add List.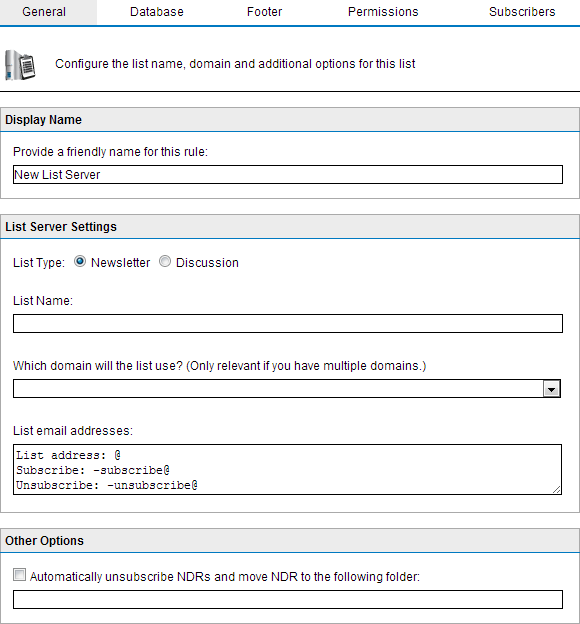 Configure the following options:
Option
Description
Display Name
Key in a friendly name for the new list.
List type

Select the type of discussion list to create:

List Name

The list name is used in the list email address fields.

For example, if the list name is MyNewsletter, the list email address is MyNewsLetter@mydomain.com

List domain

The domain to use for the list. The list of domains is extracted from the Local Domains list.

The list server utilizes this domain for the list addresses displayed in the List email addresses box.

Automatically unsubscribe NDRs and move NDR to the following folder:
When an NDR is received from a subscriber of the list, the subscriber is automatically unsubscribed and the NDR is moved to a custom folder.
Option

Description

Microsoft Access
Specify a database name and location.

GFI MailEssentials

automatically creates a database.
Microsoft SQL Server
Specify SQL server name, database and logon credentials used to store newsletter/discussion subscribers list. Click Test to ensure that

GFI MailEssentials

can connect with the specified Microsoft SQL Server.
NOTE
You can use Microsoft Access for lists of up to a maximum of 5000 members.
Customize your distribution list. For more information refer to Configuring advanced newsletter/discussion list properties.
Click Apply.