Installing
Kerio Control
Kerio Control can be installed in three different ways:
NOTE
From version 9.3 onwards 32-bit hardware is no longer supported.
Product editions
The below information explains how to install the software appliance edition on a machine without an operating system.
WARNING
Any existing operating system and files on the target hard disk will be erased.
For hardware requirements, refer to Hardware requirements.
Download the ISO image from the Download page.
Select one of these actions:
Burn the ISO image on a CD/DVD
Boot from the appropriate drive. The installation runs automatically.

Kerio Control

checks all interfaces for a DHCP

Dynamic Host Configuration Protocol - A protocol that automatically gives IP addresses and additional configuration to hosts in a network.

server in the network and the DHCP server provides a default route after the installation:
Internet interfaces — All interfaces where

Kerio Control

detects the DHCP server and the default route in the network. If there is more than one Internet interface with a default route,

Kerio Control

arranges the Internet interfaces in the load balancing mode.
LAN

Local area network - A network that connects computers and other devices in a small area.

interfaces — All interfaces without any detected DHCP server.

Kerio Control

runs its own DHCP server through all LAN interfaces configured to 10.10.X.Y where X is the index of the LAN interface (starting with 10). Y is 1 for the Control interface and 11-254 for DHCP assigned hosts.
Follow the instructions on the computer's console to perform the basic configuration.
To perform the initial setup, open the following address in your web browser: https://kerio_control_ip_address:4081/admin, for example, https://10.10.10.1:4081/admin which is the IP address

An identifier assigned to devices connected to a TCP/IP network.

where

Kerio Control

is accessible from your LAN.
After finishing the wizard, Kerio Control displays the login page.
To change the automatic pre-configuration, go to Kerio Control Administration to section Interfaces. For more information refer to Configuring network interfaces.
Creating your VPN
Here is a summary of what is required in terms of configuration:
Network manager sets up Kerio Control and gets the IP address or name(s) of the Kerio Control Server.
Network manager sets up VPNVirtual private network - A network that enables users connect securely to a private network over the Internet. user accounts based on the need of remote workers. Refer to: Managing user accounts in Kerio Control
The network manager sends information to remote workers, with a link to the Download VPN Client, or as an executable file that has the client plus organization's VPN information.
Remote workers must install the Kerio VPN Client on their machines that connects to the network. For more information refer to Installing and configuring Kerio Control VPN Client for users.
In the Users and Groups > Users section, enable the user right/access: Users can connect using VPN for your users. If you are using a template for all users, this right must be configured at the template level. For more information, see:
Connection to the VPN Server from the Internet as well as communication between VPN Clients must be allowed by traffic rules. There is a default traffic policy rule which should be enabled. Otherwise, there is a defined service for Kerio VPN (TCPTransmission Control Protocol - ensures packet transmission./UDPUser Datagram Protocol - ensures packet transmission. 4090), in case you do not have this rule.
Network manager must connect with their ISP to ensure: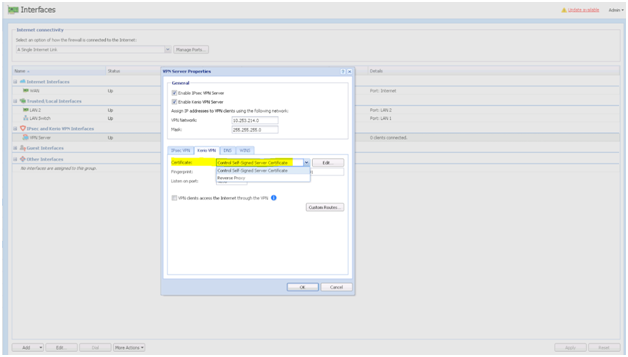 Find additional information here: Configuring network interfaces
Kerio Control Virtual Appliance is a UTM solution distributed as a virtual appliance for VMware and Hyper-V. The software provides a complex set of features for security of local networks, control of user access to the Internet and monitoring of user activity.
Kerio Control can be acquired as a dedicated hardware device that can be installed inside your network as an unified threat management firewall that features intrusion prevention, content filtering, activity reporting, bandwidth management, and virtual private networking.
For more information refer to Kerio Control NG series installation guide.
The hardware applianceKerio Control installed and delivered with standardized and tested hardware box. comes with the following options:
Appliance
Description
Hardware Appliance NG100

Desktop appliance.

3x Gb ports.

1.3 GHz Dual Core Intel Bay Trail, 4 GB RAM, 32 GB SSD.

Hardware Appliance NG110

Desktop appliance (Replaces NG100)

3xGb Ports

2.24GHz Dual Core Intel Braswell, 8GB RAM, 32GB SSD

Hardware Appliance NG300

Sub-1U table-mountable appliance.

4x Gb ports.

2.4 GHz quad core Intel Atom, 4 GB RAM, 32 GB SSD.

Hardware Appliance NG310

Sub-1U table mountable appliance (Replaces NG300)

6xGbE RJ45 SFP

2xGbE 2.2 GHz quad core Intel Atom Quad Core, 8GB, 32GB SSD

Hardware Appliance NG500

1U rack-mountable appliance.

6x Gb ports.

3.6 GHz quad-core Intel Core i5, 4 GB RAM, 32 GB SSD.

Kerio Control Box NG510

1U rack mountable appliance (Replaces NG500)

6x GbE

3.4 GHz quad core Intel Core i5, 16GB RAM, 32GB SSD

Kerio Control Box NG511

Same as NG510 but has more Ethernet ports

6x + 8x GbE

3.4 GHz quad core Intel Core i5, 16GB RAM, 32GB SSD