Renaming domains in
Kerio Connect
In Kerio Connect, you can rename your domain in the administration interface. Once a domain is renamed, the original name becomes an alias. This ensures that email messages sent to addresses with the original name are always delivered.
Original
Server restart
domain name

old_domain.com

new_domain.com

names_of_aliases

alias.com

old_domain.com

alias.com
The domain configuration does not change after renaming.
IMPORTANT
Any calendar events created before renaming cannot be edited or removed after the domain is renamed.
Prerequisites
Before you start the renaming process:
Renaming domains
In the administration interface, go to Configuration > Domains.
Double-click the domain you want to rename.
On the General tab, click Rename.
Type a new name for the domain. You can cancel the renaming process before you restart the server. Click Cancel Rename in the domain's configuration.

Restart the server.
Before the restart, all operations are performed using the original name. During the restart, Kerio Connect automatically replaces the original name with the new name in the configuration files.
You can restart the server in the administration interface: Go to Status > System Health and click Tasks > Restart Kerio Connect at the bottom.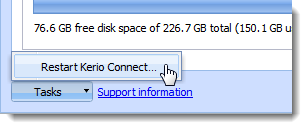 Renaming distributed domains
Before you start renaming distributed domains:
Disconnect all servers.
Rename each domain separately (as described above).
Reconnect renamed servers to a distributed domain.
Post-renaming issues
If users have email filters with addresses of users from a renamed domain, they must change the rules.
If users use Kerio Outlook Connector (Offline Edition), they must empty the cache after the domain is renamed.