How to configure ThunderBird to function with
Kerio Connect
This article will cover instructions on how to configure Mozilla ThunerdBird with an IMAPInternet Message Access Protocol - One of the two most commonly used Internet standard protocols for e-mail retrieval, the other being POP3. connection to Kerio Connect. It will detail how to configure calendars, subscribe to public folders and set up an LDAPLightweight Directory Access Protocol - A protocol that enables users to access centrally managed contacts. connection to your contacts.
To configure Mozilla ThunderBird, you need the following Kerio information:
Your Username
Your Password
Your Email Address
Your Server Address
If you are unsure of the information above, please contact your Kerio Connect administrator as they should be able to provide these details.
Mozilla ThunderBird will use the IMAP protocol, so please ensure your firewall/router have TCPTransmission Control Protocol - ensures packet transmission. ports 143 (IMAP) and 993 (Secure IMAP) open so that Mozilla ThunderBird can access Kerio Connect internally and externally.
Please follow the instructions below to setup your email account:
Launch Mozilla ThunderBird. On the first launch of this application it will show a wizard which you can run through. Please note - If the wizard does not show there is an option called 'Create a new account' that is visible on the main screen when Mozilla ThunderBird launches. Pelase use this to creat your mail account.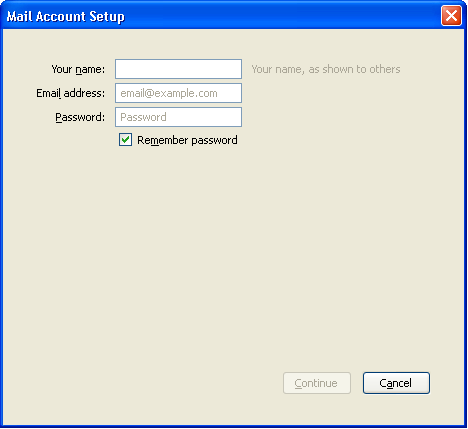 Enter the user's full name,

Kerio

email address and

Kerio

password.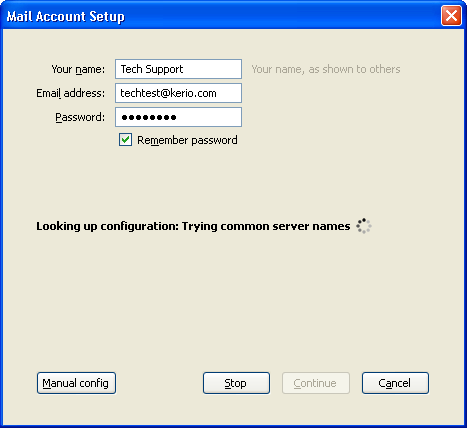 Please click on the 'Manual config' button (See image above).
From there select 'IMAP', check that the mail server address and username match your

Kerio

connect server address and

Kerio

email address and then click 're-test' once the information is correct.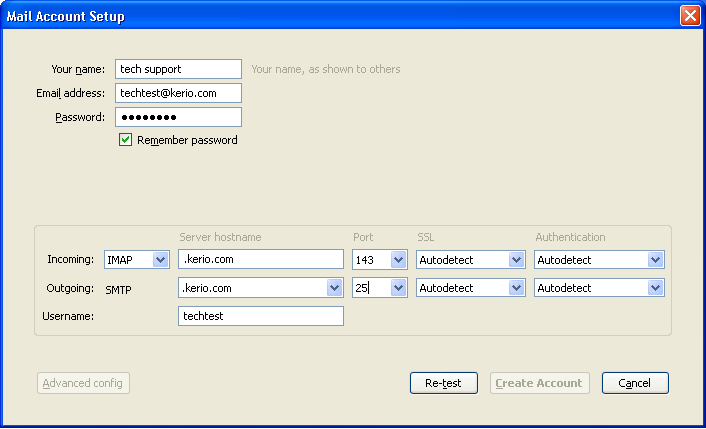 Click 'Create Account'
This will then start to synchronise your account. Please note that the IMAP protocol does not support contacts or calendar folders. If you wish to have calendars in Mozilla ThunderBird please download the lightning module from http://www.mozilla.org/. For more information refer to Using CalDAV in Lightning.
If you wish to access to other email folders such as the public folders you will need to subscribe to these by doing the following:
Right click on your account and go to 'Subscribe'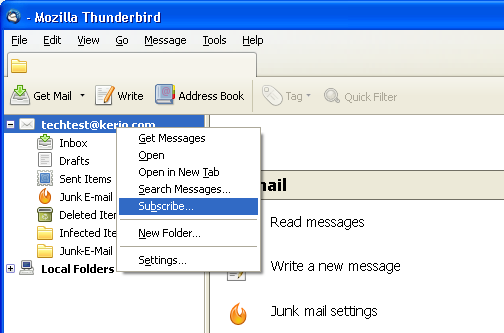 You will get a new window pop-up showing the folders you are subscribed to
Just tick/check the folders you want to subscribe to and click on the button 'Subscribe'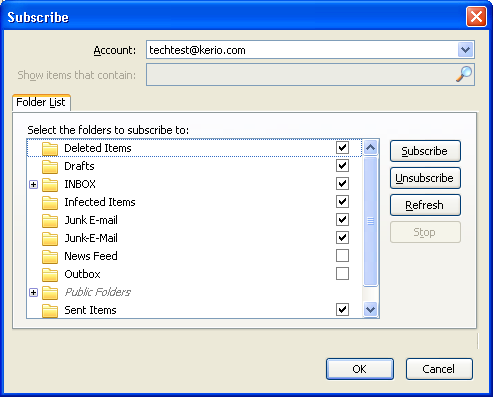 You can access to your contacts in Mozilla ThunderBird. , For more information refer to How to configure an LDAP connection in Mozilla ThunderBird to your Kerio Contacts.