Configuring Microsoft Windows Phone 8 using Exchange ActiveSync
Kerio Connect 8.0.1 and above supports the ability to synchronize mail, contacts, calendars, and tasks to Microsoft Windows Phone 8 devices via the Exchange ActiveSyncA protocol that synchronizes data with computers and mobile devices. protocol (EASExchange ActiveSync - A protocol that synchronizes data with computers and mobile devices.).
Which data can be synchronized
For more information refer to Synchronizing folders with mobile devices.
Configuring
Kerio Connect
There is no additional configuration necessary to support Exchange ActiveSync (EAS) from Microsoft Windows Phone 8.
Check the following items:
The status of configured EAS devices can be viewed from the users dialog once the account has been successfully added. In the administration interface, go to Accounts > Users, right click on a user and select More Actions > Mobile Devices….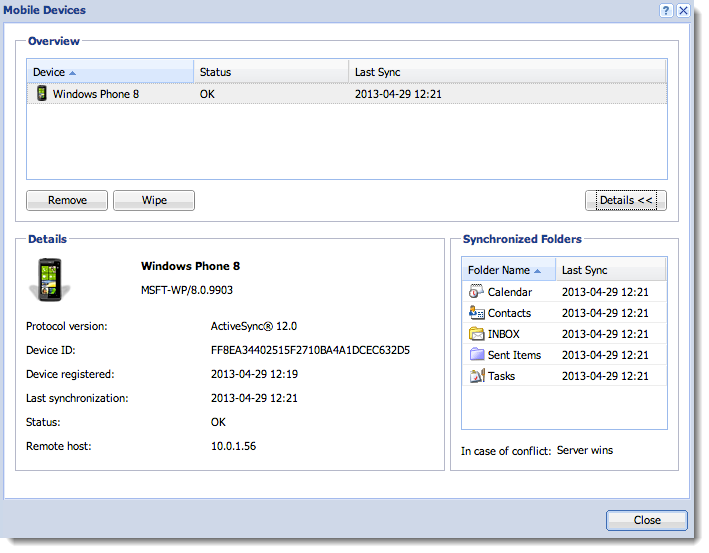 Configuring Windows Phone 8
Launch the mail application from the home screen.
If it is the first time, create a new account. Otherwise, choose add email account from the menu options.
Select advanced setup.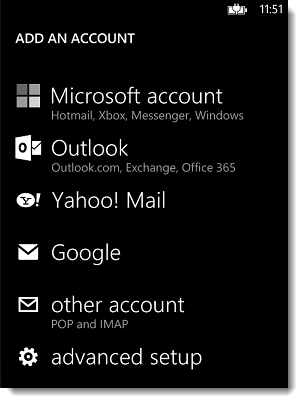 Enter your email address and password and click next.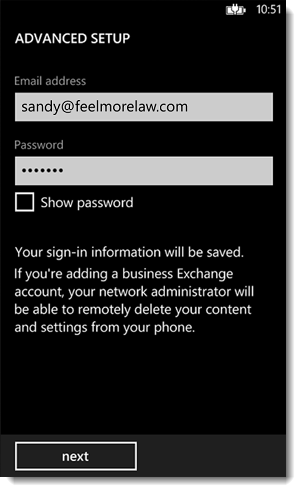 Select Exchange ActiveSync as the account type.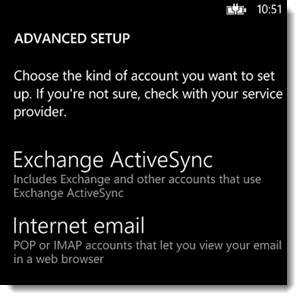 Enter the name of your domain (e.g. feelmorelaw.com) and server address (e.g. mail.feelmorelaw.com).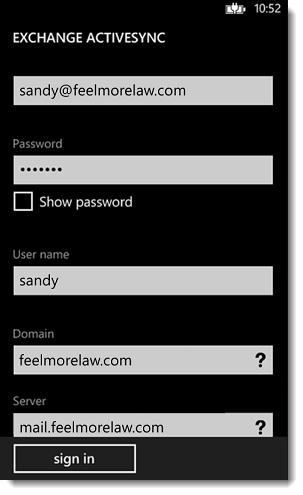 Click Sign in.
Now you can synchronize your Windows Phone 8 device with your account.