Personal Whitelist
The personal whitelist is an additional whitelist that compliments global whitelist. Disabled by default, the personal whitelist can be enabled for users allowing them to add specific email addresses to a personal whitelist that they can manage. For more information refer to End User Actions.
For management purposes, administrators can also remove specific email addresses that the users have added to their personal whitelist.
Enabling/Disabling Personal Whitelists
Go to Anti-Spam > Whitelist.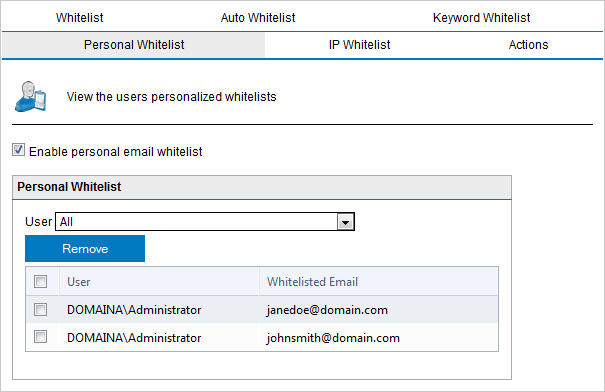 Select Personal Whitelist tab and select or unselect Enable personal email whitelist to enable or disable personal whitelist feature.
Click Apply.
Removing emails from users' personal whitelist
Go to Anti-Spam > Whitelist and select Personal Whitelist tab.
From the User drop down list, select the user for whom to delete an email address.
Select an email address from the list of email addresses. Click Remove.
Click Apply.