Configuring NAT
Kerio Operator

is behind NAT and phones are on the Internet
In the administration interface, open section Network > General.
In the NAT

Network address translation - A method that remaps IP addresses by changing network address information.

support section, enable NAT by checking the option.
Enter the public address which should be used in SIP

Session Initiation Protocol - A communication protocol used for voice and video calls in Internet telephony or private IP telephone systems.

protocol messages.
For phones in the same private network as

Kerio Operator

, create an appropriate IP address group in section Configuration > Definitions > IP Address Groups with all addresses on which phones communicate in your private network. Thus, the PBX

Private Branch Exchange - System that connects telephone extensions and switches calls.

will communicate with phones within the network directly.
(Optional) You can also limit the RTP port range. Each call requires 4 ports for communication.
Also, map the following ports from firewall to

Kerio Operator

. It is usually necessary to map a port range for RTP (according to the specified interval).
TCP/5061
UDP/443
TCP+UDP/3478
TCP+UDP/3479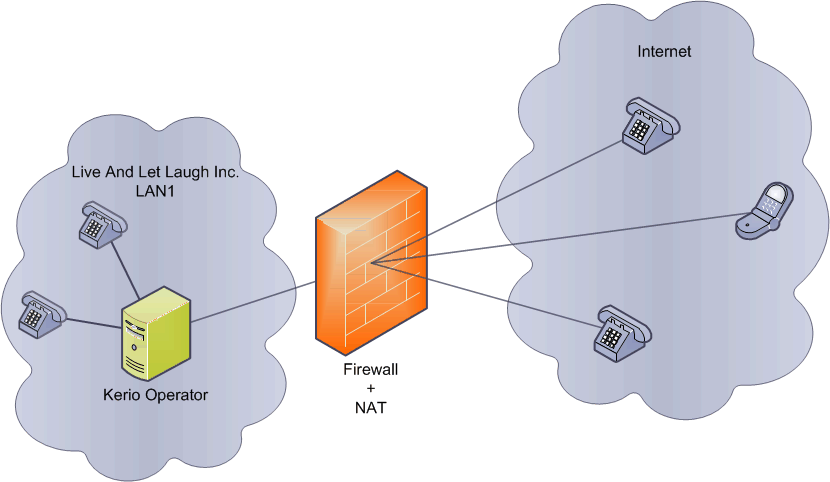 Kerio Operator

is on the company network and hardware phones are behind NAT

Firstly, configure NAT for Kerio Operator.

The scenario in figure bellow requires only one minor configuration in the PBX settings:
In the administration interface, open the Extensions section.
Select the extension of the user whose phone is in a private network.
In the Edit extension dialog, go to tab Advanced.
Check the Extension is behind NAT option.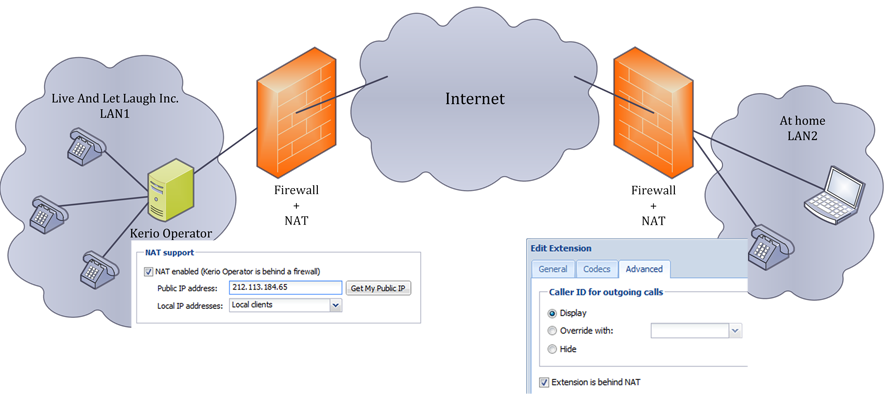 Kerio Operator

is behind NAT and hardware phones are on the Internet

Firstly, configure NAT for Kerio Operator.

If the telephone is in the Internet (not behind NAT), Kerio Operator does not require special configuration.