Assigning static IP addresses for
Kerio Control

VPN Clients

If Kerio Control user needs to access services hosted on the Kerio Control VPNVirtual private network - A network that enables users connect securely to a private network over the Internet. Client, you can assign a static IP addressAn identifier assigned to devices connected to a TCP/IP network. to Kerio Control VPN Client.

To assign static IP address to VPN clients:
In the administration interface, go to Users and Groups > Users.
Double-click the user to whom you want to assign a static IP address.
In the Edit User dialog box, go to the Addresses tab.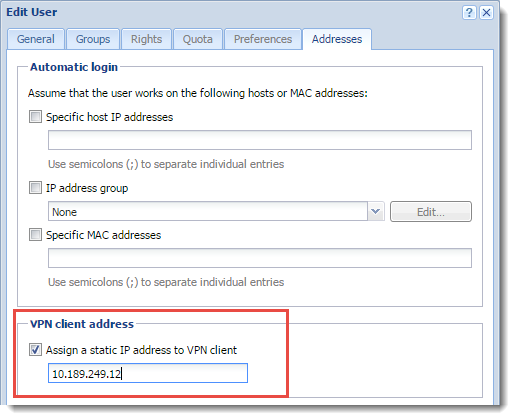 Select Assign a static IP address to VPN client.
Type the static IP address.
Click OK.