Managing your
Kerio Control

Statistics account

Kerio Control Statistics is a web interface where you can view your own browsing statistics. It also includes tools for:
Accessing the web interface
To open Kerio Control Statistics:
Launch your web browser and type your

Kerio Control

address. The address has this pattern: https://server:4081/ where server refers to the name or IP address

An identifier assigned to devices connected to a TCP/IP network.

of

Kerio Control

, and 4081 represents a web interface port.
NOTE
If your browser displays a warning about a certificate invalidity, continue.
For more information, contact your Kerio Control administrator.
In the

Kerio Control

Statistics login page, type your

Kerio Control

username and password. If you do not know your credentials, contact your administrator.
Click Login.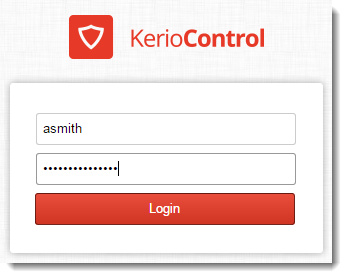 Switching between
Kerio Control

Statistics and account settings

Kerio Control Statistics has two parts:

Use the option in the upper right corner to switch to the other part of the interface.

Reading statistics and reports
See Viewing activity reports in Kerio Control Statistics and Reading managerial statistics and reports in Kerio Control.
Setting up 2-step verification
For more information refer to Authenticating with 2-step verification.
Checking your quota
In Kerio Control Statistics, you can check the upload/download quota set for your Kerio Control account.
This section of the interface provides information on the data volume downloaded/uploaded for the current day, week, or month. If your administrator has set up quota, Kerio Control Statistics displays your current usage as a percentage of your quota.
To see your quota:
In the

Kerio Control

Statistics interface, go to My Account.
On the Account tab, see the Transfer Quota Statistics section.
NOTE
The starting day for the week or month can be changed. Contact your administrator for details.
Changing your password
WARNING
You can change your password only if your account does not belong to a directory service.
The middle section of the Account tab allows you to set your user password.
In the

Kerio Control

Statistics interface, go to My Account.
On the Account tab, type the old password once and the new password twice.
Click Change password.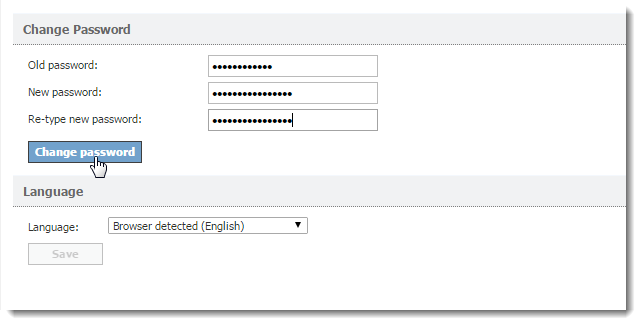 Setting a language for
Kerio Control

Statistics and email reports

Kerio Control can display and send statistics, reports and email alerts in various languages. To change the language:
In the

Kerio Control

Statistics interface, go to My Account.
On the Account tab, scroll to the Language section at the bottom of the tab.
Select a language.
Click Save.
Kerio Control saves your settings and reloads the Kerio Control Statistics interface in the new language.
NOTE
Language settings also affect the format of dates and numbers.