Getting Started with
MyKerio
MyKerio is a free cloud service that enables you to monitor and manage multiple Kerio appliances from a single dashboard. You can register for a free account at my.kerio.com
To begin using MyKerio:
Go to https://my.kerio.com/. If you are not registered yet, click Register and go through the registration process.
Click Login.
Type your

MyKerio

username and password.
Optionally, check Keep me logged in to avoid getting automatically logged out of

MyKerio

in case of inactivity.
Click Login.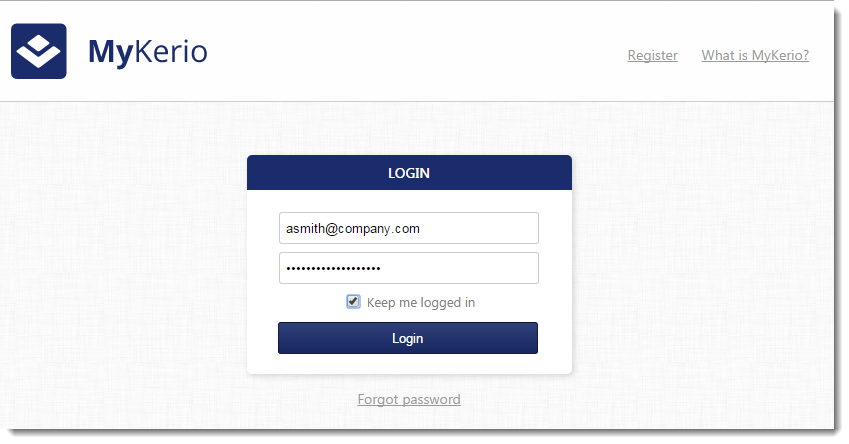 MyKerio supports:
Feature
Description
Remote administration
You can monitor and manage your

Kerio

products remotely from anywhere. Add

Kerio

Connect,

Kerio

Control and,

Kerio

Operator to

MyKerio

to start managing and monitoring them.
Unified login
You don't need login credentials for each appliance. You only need to only remember your

MyKerio

credentials to access your respective appliance's administration.
Secured interaction

MyKerio saves only the product names, versions and IP addresses of the appliances. No credentials from appliances are transferred to or saved in MyKerio.

You are also not required to open any service or port on your firewall, because your appliances always establish the connection. MyKerio just forwards commands to your appliances.

Peer administration
You can invite other users as administrators to manage and monitor appliances along with you.For more information refer to Managing users in organizations.
Sending notifications
You can set up

MyKerio

notification service to send alerts and notifications from your appliance. For more information refer to Sending alerts and notifications via MyKerio.
2-step verification
You can add an extra layer of security to your account by setting up 2-step verification, which uses an application on your smartphone or computer to confirm your identity. For more information refer to Configuring 2-step verification in MyKerio.
Encrypted communication
All communication between your appliances and

MyKerio

is encrypted.
Activity timeout

MyKerio

offers an administration shell that has an inactivity session invalidation in effect, which means that if no activity happens in the browser window for 15 minutes, then the user gets logged out of

MyKerio

automatically. This feature is only active when a user logs into

MyKerio

with Keep me logged in option as disabled.