Opening a support case
If you are experiencing issues with your GFI product, you can open and manage a support case in the GFI Accounts Portal .
For more information refer to Managing open support cases.
NOTE
To avoid delays, make sure to provide your license key or account number with your support request.
Before you open a new case
Research the online help and knowledge base for information about known issues and similar problems. See https://www.gfi.com/support
Ensure you are using the latest build available for your product. New releases have hotfixes and improvements that may solve your issue.
For issues related to upgrades, consult the GFI Upgrade Center. See https://upgrade.gfi.com/
Opening a new case
To open a new case with support:
Login to the

GFI Accounts Portal

.
Go to Support and click Contact Support.
Click Log a Case.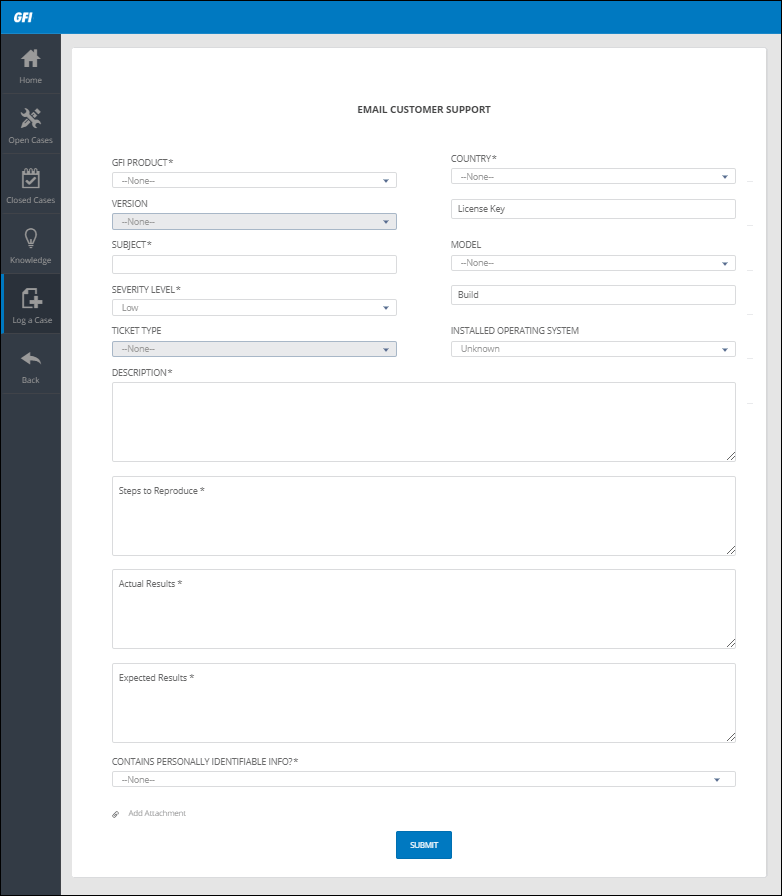 The form loads your contact details automatically. Check if they are correct. To make changes you need to edit your account details. For more information refer to Editing accounts details.
Fill in the following fields:
Field
Description
GFI Product
Select your GFI product from the list.
Subject
Enter a subject that summarizes the problem. The description should be short yet complete.
Security Level

Select the option that better describe the impact of the problem on your business:

1- Production System Down. Problem is affecting the core business.

2- Restricted Operations. Problem is affecting certain areas related to the business operations.

3- System Performance. Problem is slowing down certain business operations.

4- Questions/inconvenience. Problem is causing some inconveniences to business or some questions need to be answered.

Description

Give a detailed account of your problem. Try to answer the following questions:

What is the main issue?
When did the problem start?
Any changes in the environment around the time the problem started? Software or hardware updates, installation of third-parties software, etc.
Any step already tried to solve the problem?
What are the steps to reproduce the problem?

Web phone
Your main telephone contact number
Country
Select a country from the list. This information is useful to assign your case to technicians that work on your same time zone.
License key
Enter the license key of the GFI product. It is important that your support request form contains either the license key on your account number to verify the validity of your SMA.
Version
Version of GFI Product installed.
Build
Build number of GFI Product installed.
Installed Operating System
Operating System in which the GFI Product is installed.
Add attachment
Click the link to attach screenshots or a set of log files collected.
Click Submit.