Configuring Archived Item Deletion
The Deletion feature enables users to permanently delete archived items from GFI Archiver. If enabled, an additional delete button is displayed in the Archive tab toolbar and in the Mail View toolbar. Additionally, deletion is also possible from Outlook Connector and from email clients connected through IMAPInternet Message Access Protocol. To be able to delete archived items, the user must also be assigned to a Role with the Delete Items permission. For more information refer to Configuring Roles and Permissions.
IMPORTANT
Enabling this feature may breach company policy or legal compliance related to email retention.
1. From Configuration tab, select Deletion.
2. Click Enable Deletion.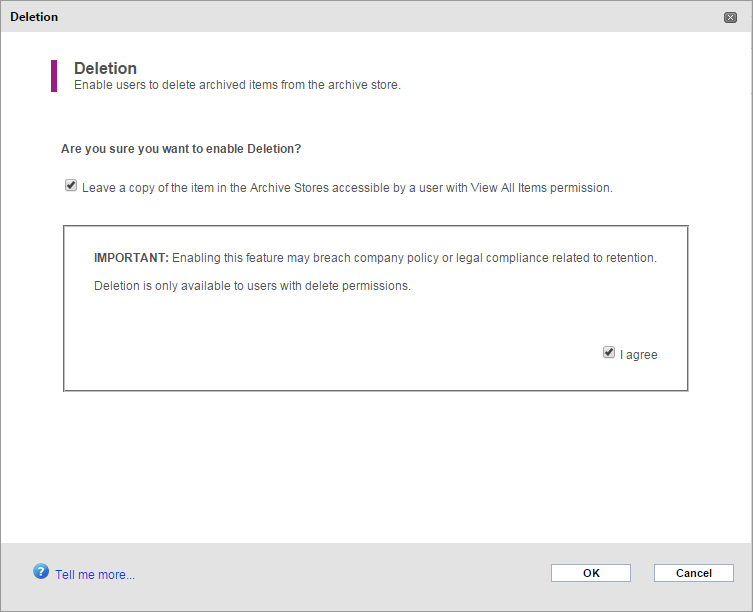 3. (Optional) If you want to retain a copy of the deleted item in the Archive StoresA collection of email sources, email metadata and search indexes within GFI Archiver, check Leave a copy of the item in the Archive Stores accessible by a Full Access User. Retained items are only accessible by users with full access rights. If the checkbox remains unchecked, deleted items will be removed permanently from the Archive Stores.
4. Check the I agree checkbox.
5. Click OK.
NOTE
User cannot delete items from a read-only Archive Store. Users are notified if delete fails.