Managing users in organizations
You can give other administrators the ability to manage one or more of your organizations and appliances. These users then can rename the organization, add and manage appliances, and add or remove users.
Adding users to
MyKerio
To allow other administrators to manage all the appliances within an organization, you must send them an invitation. Once you have invited them, they receive an email inviting them to become part of your organization:
Go to Organizations in

MyKerio

.

Click to invite a user.
In the Invite User to Organization dialog box, type the user's email address.

MyKerio

sends an invitation email and the pending invitation appears in the list of users for the selected organization.
IMPORTANT
Ensure that the email address is typed correctly. The person that receives the email will have administration rights to your appliances.

The invited user receives the email (see below) and clicks Accept invitation to complete the invitation process.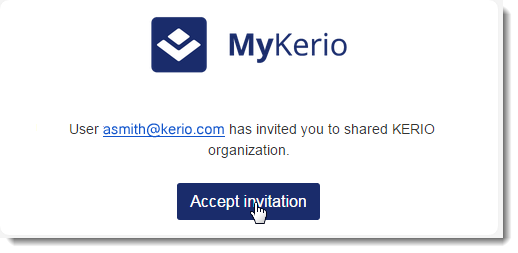 Now you can see the new user in your MyKerio organization.
NOTE
The invitations are valid for 7 days, expired invitations disappear from the list.
You can also resend and revoke the pending invitation.
Resending and revoking pending invitations
After you send an invitation to the organization, you can:
Click to resend the invitation email. Resending the invitation resets the expiration time of the invitation back to 7 days.
Click to revoke the pending invitation. Revoking the invitation disables any existing links in the invitations for the certain email address.
Deleting users from organizations
Click

to delete a user from the displayed organization.
If you want to delete a user from all your organizations, you need to delete them from each organization separately.
Adding and managing organizations
For more information refer to Adding and managing organizations.